In this post we detail exactly what to looking for and things to know before purchasing group 26 batteries and we have also detail what we think are the best group 26 batteries on the market.
If you are currently looking for group 26 batteries. Read on.
Let's dive in!
Image
Product
Details
Price
Antigravity Group 26 UTV/Car Battery
• OEM fitment matches most car types
• Built-in battery management system for an extra degree of security
• High CCA rating
• No heavy metals such as Lead, Mercury, or Cadmium
Check Price
Interstate Group 26 Battery

• 525 cold-cranking amps ensure great performance
• 2-year warranty
• Great to use in hot climates
• Flooded-cell battery
Check Price
SLI26C Rayovac BCI Group 26 Car and Truck Battery
• Flooded lead-acid battery
• 1-year warranty
• Suitable for most types of trucks
• Affordable
Check Price
What Are Group 26 Batteries?
Before we tell you about our favorite picks, we'd like for you to get more familiar with Group 26 batteries first.
The group size of a battery, or BCI, is a number that manufacturers of vehicles use to classify batteries according to their size. So, when we mention Group 26 batteries, we mean that these batteries come in the following dimensions.
Length: 8 3/16 in. or 208 mm
Width: 6 13/16 in. or 173 mm
Height: 7 ¾ in. or 197 mm
Besides automotive vehicles, you can use Group 26 batteries to power:
Industrial applications
Commercial and construction vehicles
RVs
Boats
Medical equipment
Group 26 batteries are considered mid-size. They're usually made with heavy-duty materials to hold their charge in the most extreme weather. These batteries are available as:
Yet, when the time comes to replace your car battery, only knowing its group size isn't enough to find a suitable replacement. In the next section, we'll address everything else you should figure out before purchasing a Group 26 battery.
How to Choose Group 26 Replacement Batteries?
There are many factors besides the group size that can help you determine the perfect fit for your vehicle. Let's find out which battery specifications to look for while shopping for a replacement.
Purpose
The first thing you should think about is the purpose of your Group 26 batteries. Knowing this will help you narrow down your options a great deal.
Whether you'll need starting, dual-purpose, or deep-cycle batteries, take note of which type you want and keep it in mind. A really good piece of advice here is to look for these details on your old car batteries so that you can find a similar product.
Chemistry
The next most important factor to consider is your battery's chemistry. Again, you can easily know the perfect specs that'll suit your vehicle by copying the features on your old battery.
When looking for the chemistry of Group 26 batteries, you'll have to choose from:
Of course, there are more types out there, but these are the most common.
Cell Type
The third thing you should find out is the cell type of the Group 26 battery that you intend to buy. The cell type has to match that of your current battery so that the new battery will work seamlessly when installed into your vehicle.
Battery cell types include:
Terminal Position
You must know where the negative and positive terminals are positioned in your vehicle. This way, you'll make sure to buy a battery with the right terminal orientation.
Some terminals are situated on the top of the battery, while others are placed on the sides. Therefore, it's advisable to take a look at how your current battery is mounted to the terminals before you purchase a new one.
Always pay attention to how the cables will connect to the terminals.
To keep yourself from worrying too much, just take a look at the BCI number that your current battery is labeled with. Besides the dimensions of the battery, this number indicates the terminal orientation, so that's a relief!
Voltage
This factor is by far the easiest to think about since all modern vehicles require 12V batteries. So, this one is a no-brainer.
Some experts believe that this voltage might increase in future vehicles to 24V. But until now, we'll be going with 12V batteries.
If you're all about vintage cars, you know that these classical vehicles use 6V batteries.
Cold-Cranking Amps
Now, here is when your research might become a bit confusing, but not to worry. CCA, or cold-cranking amps, refers to the battery's capacity to support electrical demand. (source)
So, when looking for the CCA rating on a car battery, it's always a good idea to go for higher values. Even if the CCA rating is more than the one of your current battery, this will do no damage to your vehicle.
Warranty
Your new battery's warranty is another essential factor to think about, especially if this battery is pricey. Car battery warranties can range from three months to four years, so make sure that you think this through based on your budget and your needs.
Construction and Quality
Take special care when researching the construction of the battery. The housing needs to be solid and carefully put together not to affect the performance of the battery.
Plus, it may do you good to pay attention to the freshness date, which you'll find on a sticker on the body of the battery. Choose a battery that hasn't been around for more than six months.
3 Best Group 26 Batteries to Consider Buying
Now that you have a clear idea about what to look for in a Group 26 battery, we'll tell you about our top picks.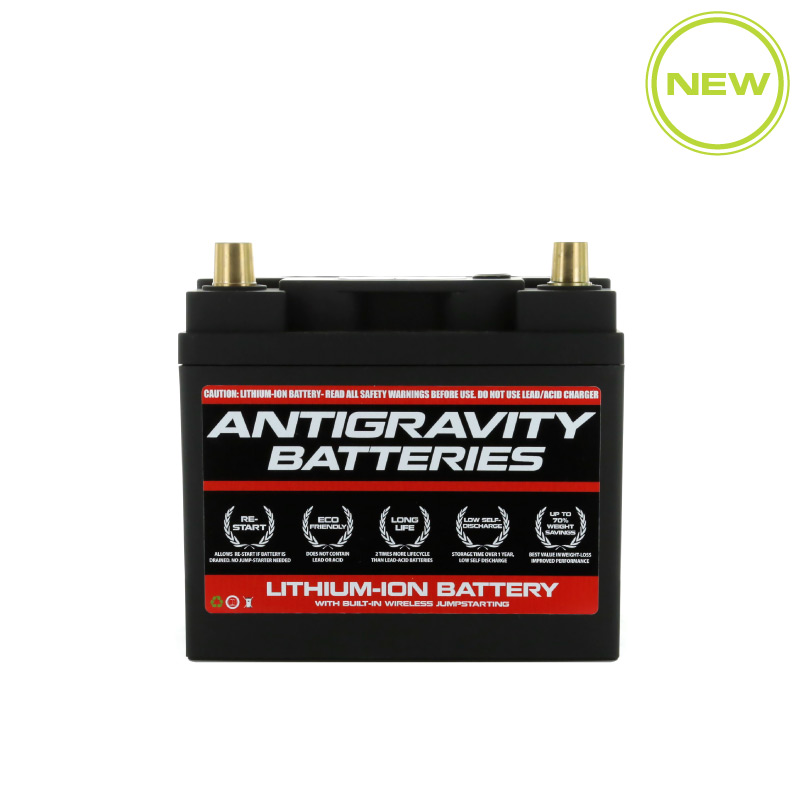 Looking for a more premium option? This Antigravity Group 26 battery can be what your vehicle needs.
Let's just start by saying that this battery offers you high-performance power. It's a lithium-ion battery that comes in two cranking amp options, 850 and 925, to grant you an incredible experience.
Another feature that everyone seems to admire is the OEM and UTV case, which makes it an exact fit for almost all vehicles. Of course, this is such a great quality that can keep you from worrying about the variety of battery sizes for the time being.
A nice addition that the Antigravity battery brings to the table is the on-board Battery Management System. The BMS helps protect your battery from over-discharge, over-charge, and short circuits.
Therefore, we can only assume that this unique battery is one of the safest options and long-lasting options out there.
Plus, you get an impressive shock-resistant, no-spillage design as well as eco-friendly components.
Pros
Lightweight
OEM fitment matches most car types
Built-in battery management system for an extra degree of security
Shock and vibration resistance
High CCA rating
No heavy metals such as Lead, Mercury, or Cadmium
Cons
---
Perfect for hot to moderate climates, the MT-26 battery by Interstate has quickly grasped our interest.
It's got a CCA rating of 525, which is a decent value since the best CCA rating for cars ranges from 350 to 600. This way, you can expect this battery to last you for years to come with minimum issues and admirable performance.
Another thing we like about this battery is that it comes with a flooded-cell design. In comparison to AGM batteries, flooded cells can hold their charge for a longer amount of time.
Last but not least, the MT-26 battery is available with a 2-year warranty, which is quite fair compared to its affordable price.
Pros
525 cold-cranking amps ensure great performance
2-year warranty
Great to use in hot climates
Flooded-cell battery
Budget-friendly
Cons
May need internal construction maintenance every now and then
---
Here's our final candidate for the best Group 26 batteries. This one, sold by batteriesplus.com, is an affordable option if you're on a tight budget.
The battery comes with a 440 CCA rating, which is slightly lower than our previous picks. However, we think it's suitable for its price and use.
It's also a starting battery, which explains its relatively lower price. Yet, with its flooded lead-acid design, you can expect it to stick around for a while.
Other qualities that we love include a 1-year warranty and compatibility with most auto/light trucks.
Pros
Flooded lead-acid battery
1-year warranty
Suitable for most types of trucks
Affordable
Cons
---
Related Articles
Group 25 Batteries
Group 31 Batteries
Group 94R Batteries
Group 29 Batteries
Group 49 Batteries
Group 65 Batteries
Group 35 Batteries